The Neurodynamic Vision ecosystem would not be complete without a broad definition and understanding of the power of the human mind. A number of excellent books have been written on this subject, each adding a new perspective to the subject. Listed below is a selection of books that I have found to be powerful building blocks to a deeper understanding of important topics. These reference links are by no means complete reference library. Please feel free to comment on any of these or add additional recommendations in the forum section.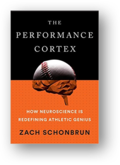 On a quest to discover what actually drives human movement and its spectacular potential, journalist, sports writer, and fan Zach Schonbrun interviewed experts on motor control around the world. The trail begins with the groundbreaking work of two neuroscientists in Major League Baseball who are upending the traditional ways scouts evaluate the speed with which great players read a pitch. Across all sports, new theories and revolutionary technology are revealing how the brain's motor control system works in extraordinary talented athletes like Stephen Curry, Tom Brady, Serena Williams, and Lionel Messi; as well as musical virtuosos, dancers, rock climbers, race-car drivers, and more.
Forbes Review; Q&A With 'The Performance Cortex' Author April 18, 2018; The main edge review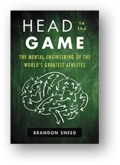 In Head in the Game, Sneed takes on a mesmerizing tour of what seems to be a new frontier in performance enhancement, from neuroscience labs at Duke, to the Super Bowl, to the mountains of Patagonia, to the Taj Mahal of virtual reality, to the jungles of Peru, and beyond. Anchoring all of this is a dynamic cast of characters, from the director of human performance at Red Bull, to the former Nike higher-up who left to start his own cognitive engineering company, to the drug addict who built sensory deprivation chambers in a fit of near-madness only to find them in high demand by the world's best athletes, to paradigm-shattering neuroscientists who have created technology that allows athletes to look at their brains using a headset and a smartphone, and many more
SI excerpt; Speed Secrets Podcast ;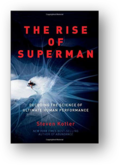 In this groundbreaking book, New York Times–bestselling author Steven Kotler decodes the mystery of ultimate human performance. Drawing on over a decade of research and first-hand reporting with dozens of top action and adventure sports athletes like big wave legend Laird Hamilton, big mountain snowboarder Jeremy Jones, and skateboarding pioneer Danny Way, Kotler explores the frontier science of "flow," an optimal state of consciousness in which we perform and feel our best.
Youtube Video (1hour); Blog Review - Robert Bouge; Lessons from The Rise of Superman by Steven Kotler - Nathaniel Eliason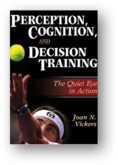 Athletes must be able to make split-second decisions under the pressures of competition, but often this vital learning is left to chance. With Perception, Cognition, and Decision Training: The Quiet Eye in Action, readers gain access to the research foundations behind an innovative decision-training system that has been used successfully for years in training athletes. Certain to become the definitive guide to decision making in sport, this text presents three innovations solidly based in research. The first is the vision-in-action method of recording what athletes actually see when they perform. The second is the quiet eye phenomenon that has attracted considerable media attention. The third innovation is decision training to identify not only how athletes make performance decisions but also how to facilitate visual perception and action to enhance performance.
Quite Eye Solutions; BBC Future - Why Athlete need a 'Quiet Eye'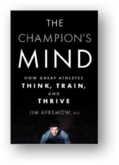 Even among the most elite performers, certain athletes stand out as a cut above the rest, able to outperform in clutch, game-deciding moments. These athletes prove that raw athletic ability doesn't necessarily translate to a superior on-field experience—its the mental game that matters most. Sports participation—from the recreational to the collegiate Division I level—is at an all-time high. While the caliber of their games may differ, athletes at every level have one thing in common: the desire to excel. In The Champion's Mind, sports psychologist Jim Afremow, PhD, offers the same advice he uses with Olympians, Heisman Trophy winners, and professional athletes. With hundreds of useful tips, breakthrough science, and cutting-edge workouts from the world's top trainers, The Champion's Mind will help you shape your body to ensure a longer, healthier, happier lifetime.
Youtube Video - Brian Johnson Published on Mar 16, 2016; Book Review - Dean Yeong; Review - The fortune institute
Share This