New NEURODYNAMIC Vision Training Arena Opens
Ryan Harrison, Director of training, leads innovative sports vision training for elite-level student-athletes and Pro's
Sports training innovation shouldn't start and stop with physical strength or cardiovascular fitness. Recovery, Nutrition, and mental toughness are all part of the performance pyramid that helps develop athletes to their full potential.
See With Your Brain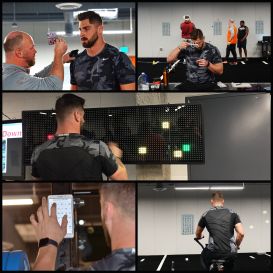 Today NEURODYNAMIC Vision adds a new building block to the pyramid - Sensory-Cognitive training. The eyes are responsible for 80% of all sensory input to the brain. The brain dedicates up to 30% of its power to process this information. NDV Performance offers athletes the ability to train smarter, not just harder. Integrating strength and conditioning training with neuro-cognitive exercises is a new and important step to developing the complete athlete
NDV Performance Introduces Ryan Harrison, Director of Training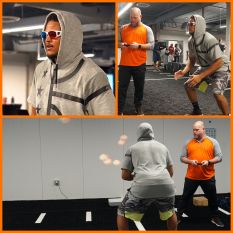 Under the leadership of Ryan Harrison, Director of Training, NDV Performance brings 20 years of expertise in the field of sports vision training to elite athletes of all ages, looking to get to the next level. Ryan has worked with Dr. Bill Harrison as industry leaders at SlowTheGameDown has been training athletes for over 45 years, from George Brett in 1971 to AL East Champions Toronto Blue Jays in 2015 and the World Series Champion San Francisco Giants in 2010, 2012 and 2014. Ryan Harrison, has a degree in Exercise Physiology from the University of California at Davis. Ryan, joins Scot Prohaska, Strength and Conditioning Coach to offer a unique integrated Vision and Performance training experience.
NDV Performance can be found inside the Great Park Ice Complex at the Great Park of Irvine. Great Parks offer all-new amenities for tennis, volleyball, soccer, baseball, softball, and more. From the whimsical playground to the 25 tennis courts and Championship Soccer Stadium, the Sports Complex is sure to become Orange County's premier recreation destination
Share This