An untapped opportunity for an unmet need
For most doctors of optometry, incorporating basic sports and performance vision services can be a low-cost way to meet the needs of your patients who are already engaged in physically demanding activities, as well as expand your practice and patient base. For doctors of optometry with a passion for sports and performance vision, specializing can be a successful way to meet the more advanced needs of athletes. Below are some of the essential sports vision reference books available in the market today.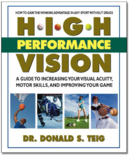 Beyond physical superiority, mental stamina, and smart play, most of the world's best athletes possess another specific advantage that gives them an edge. We're not talking about performance-enhancing drugs or blood doping, but something a lot more natural—good vision. Being able to follow a fastball as it flies over home plate, judge the shooting distance to a basketball hoop, or leap in the air to catch that spiraling football at just the right moment all depend on good eyesight. And maximizing one's vision can make all the difference between a good player and a great one. While wearing corrective lenses is certainly one way to sharpen visual acuity, it isn't the only one. In his new book, High-Performance Vision, sports-vision specialist Dr. Donald Teig, shares his highly successful approach to visual enhancement.

During his work with professional athletes over the past forty years, Dr. Teig developed a series of visual and visual-motor performance tests to determine the strengths and weaknesses of their eyesight. After establishing an initial baseline of test results, the athletes were given specific exercises designed to improve their visual skills. He then tested them again and measured the results against the baseline. With each succession of exercises, their sight and motor coordination improved, as did their performance on the playing field. In High-Performance Vision, Dr. Teig details his unique approach and offers his highly effective exercise regimen for improving your own vision. If you've been looking for a safe, natural way to improve your game, High-Performance Vision offers the perfect solution. In a clear and reader-friendly style, it shows you how to gain the edge that many pros have used for years. (2015)
Available to purchase: Bernell; Amazon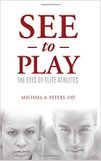 In the competitive world, conditioning is everything. Athletes who can get an edge have a better chance of moving up the ladder to more and more elite levels of play. But one aspect of conditioning that is often overlooked is vision. Ignored or undetected problems in the visual system have stopped many athletes' progress before making it to the professional -- or even college levels -- and has even ended otherwise promising professional athletic careers. Vision can be conditioned just like any other physical attribute, and the earlier this conditioning starts, the better.
In See to Play, eminent optometrist Michael Peters, who works with many professional athletes and sports teams, addresses every aspect of this vital component of elite athletics. Included are in-depth discussions of all facets of vision accompanied by myriad exercises to help athletes hone and condition peripheral vision, acuity, speed of focus, eye- hand-body coordination, and more.
His techniques also help the older veteran athlete play young and the weekend warrior gain the edge! Constructed for athletes of all ages, this essential book will truly enhance your or your child athlete's ability to see to play! (2012)
Available to purchase: Amazon
From basic eye care services to visual performance enhancement training, this evidence-based resource explores a wide range of sports vision services, addressing many of the questions you may have regarding assessment and treatment procedures, outcome expectations, and applications to sport. You'll find a thorough review and discussion of the role of vision care in an athlete's performance, as well as practical recommendations for applying current research findings to clinical practice. The accompanying CD-ROM enables you to easily print your own copies and versions of evaluation forms, screening forms, sample profiles, and patient handouts, plus other samples and resources used in client assessment and training. Evidence-based information covers a wide range of sports vision services (2007)
Evidence-based information covers a wide range of sports vision services.

A task analysis approach used throughout the text allows the reader to develop solid reasoning skills and evaluate information needed for clinical practice.

Coverage of goals, expectations, and strategies assists in determining the treatment options for a multitude of sports.

Practical, clinically oriented chapters on assessment, prescribing, and ocular injuries provide the essential information needed for clinical practice in an easy-to-use reference.

Addresses vision training from the certified athletic trainer's (ATC) perspective, reflecting the collaboration between athletic trainers, optometrists, and ophthalmologists in managing athletes.

Visual aids including photographs, tables, and boxed text help to clarify important concepts and allow ease of access to important information
Available to purchase: Amazon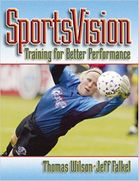 If you are looking for an innovative way to improve athletic performance on the court or field, vision training may be the answer. SportsVision: Training for Better Performance introduces a dynamic program to teach athletes to see the ball, the field, teammates, and opposition better, giving them the ability to perform better. The cutting-edge book provides coaches, athletes, sports medicine professionals, and parents with more than 50 sports vision training exercises and activities. Based on proven training techniques shown to deliver solid results, the exercises are sport specific and easy to use at home, on the field, or in the weight room. Perforated charts and forms are available for easy reference. Visual needs and training exercises are provided for 17 different sports.
In the past, sports vision training has been done primarily in clinical settings. This is the only book of its kind that takes sports vision out of the lab and onto the field, sport by sport. It challenges you to reach the next level of performance. Included are instructions for creating your own training equipment so that you can implement vision training inexpensively, anywhere and anytime, using ordinary materials available at any discount store. (2004)
SportsVision: Training for Better Performance contains the following features:
Detailed visual exercises and more than 40 photos
Numerous eye charts and activity plots that enable you to test vision and
Step-by-step exercises that make designing your own training programs easy
If you are a coach, athlete, athletic trainer, or parent,
SportsVision: Training for Better Performance can improve athletic performance, no matter what sport you're involved in.
Share This